Local rankings
Win Local Optimization Services with Google Gold Member Yan Gilbert
Want free local optimization services by one of the top 15 experts in the world? It's easy to win. We want your story.
It's easy to win. We want your story.
You can be one of 3 companies to win concierge local optimization services this quarter. We want to use your case study to prove again that what dbaPlatform does, works!
Optimization Services with Google Gold Member Yan Gilbert
dbaPlatform Chief Product Officer Yan Gilbert has just been awarded Google Gold Product Expert status and we decided to put his expertise to work. Every quarter he will choose businesses to work with– free of charge– and document their meteoric rise to Google local domination. Businesses will be chosen at random based on a submission to the dbaPlatform Local Search Discussion Facebook Group.
What Will Yan Do?
For 90 days, Yan will use his expertise to perform over 30 local SEO optimization tasks that will rocket your listings up the Google Maps rankings. These include weekly content updates to your Google My Business listings, monthly Local Falcon scans, directory citations sync and more. That's over $500 in free products and services!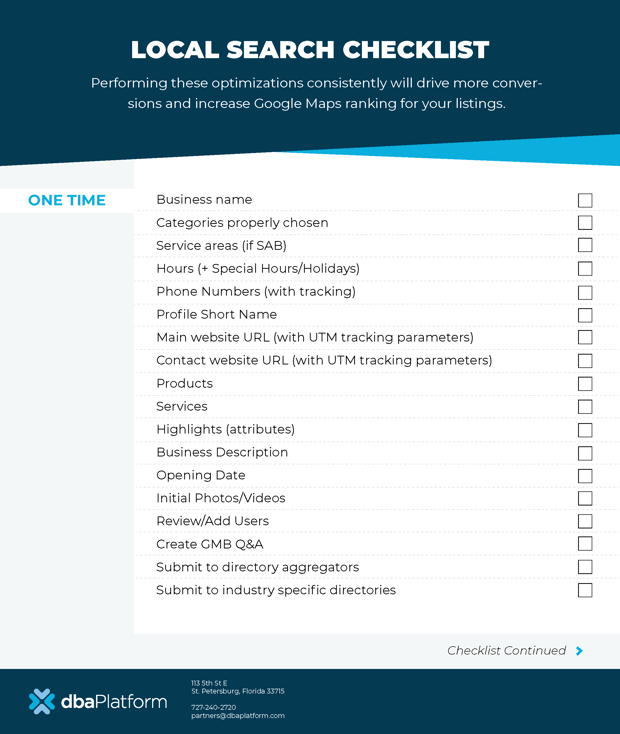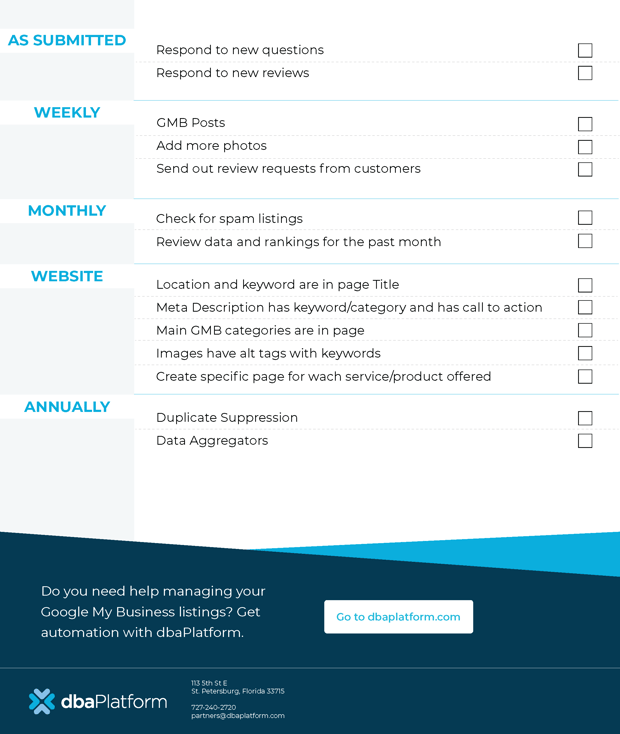 How to Participate
The contest is open to all applicants, including current dbaPlatform users. The contest is open to all applicants, including current dbaPlatform users! Your business just needs to be local. The process is simple. First, join our private facebook group. Then, in 25 words or less, explain why you're a good candidate in need of local optimization to promote your business.
Ex.1
Blossom Family Chiropractic has served downtown St.Petersburg for 5 years. We would like to increase the number of online bookings from our website. #GetYaFound
Ex.2
Carmelita's Mexican Restaurant has 12 locations across the Tampa Bay area. We hope to drive more foot traffic to our locations through online coupons. #GetYaFound
What is a Google Gold Product Expert?
Google Gold Product Experts are hand-picked by Google from the Google Help community. Members are selected based on their contribution and expertise with Google services such as Search, Maps, etc. Gold Product Experts have special access to product managers who provide product input and ask questions directly to the product development team. Currently, there are only 15 Google Gold Product Experts in the world!
What is dbaPlatform?
dbaPlatform is a powerful marketing automation platform that franchises, brands, and agencies coordinate and scale content distribution through their local merchant channels. Having managed thousands of Google My Business profiles, dbaPlatfrom has perfected local SEO over the past three years. We're the first tool in the industry to automate manual tasks like multi-location posting. We know which optimizations are most needed to drive more conversions and increase local rank.
dbaPlatform comprises four core influence and automation tools and seven add-on capabilities to empower marketing professionals to convert online buyers into local purchases.
What's The Catch?
There is no catch! Yan speaks and writes as an expert in the local SEO community and is always looking to build more social proof by developing more case studies. By optimizing your business listing, Yan gathers data on the effects of various optimization techniques in real-time. These efforts keep his knowledge at the razor's edge. So it's immensely valuable for us to underwrite the cost of your optimization and build the content of our case study library. It's a win-win.
Terms & Conditions
We reserve the right to exclude any submission for any reason. Practically, however, this means businesses that are not "local". All participants must agree to release the results of our efforts for use in case studies for dbaPlatform.
Questions?
Please submit all questions to success@dbaplatform.com or use the chatbox located on this page.