CASE STUDY
Pizza Chain Case Study 2
Learn how a national pizza restaurant chain used dbaPlatform to manage and optimize its 208 chain locations.

Case Study Summary
Learn how a national pizza restaurant chain used dbaPlatform to manage and optimize their 208 chain locations. Not only did they cut the time it was taking them to manually manage all locations by more than half, but they also saw a massive 145% increase in Direct search and a 68% increase in Discovery, which resulted in an increase in click-to-calls and driving directions.
The Story
Pizza Chain is a "fast casual" restaurant with over 200 locations and a 30+ year history. Before working with dba Platform, Pizza Chain was already taking advantage of the utility of Google My Business to reach and market to people searching for lunch and dinner restaurants in the local market on Google.
Pizza Chain was seeing the value of updating their Google My Business accounts with photos and posts; however, there was one downfall – it was taking up a lot of their time each week to manually update posts for all 208 locations individually. They were spending about 2-3 hours per week creating and publishing all of the posts for each location including custom UTM's to track their post activity.
On top of the increased activity that Pizza Chain could see, their posting activity was also having some hidden benefit as well. UTM tracking enabled Pizza Chain's marketing team to track clicks on posts inside Google Analytics, but what they weren't able to see was the incidental increases in buying actions that Google was rewarding their locations for using the post feature in Google My Business.
Pizza Chain was satisfied with the results they were seeing, but they desperately wanted to shorten the processing time and error potential on the manual process.
The Solution
Pizza Chain knew they needed to find a way to save time by speeding up the process of updating multiple Google My Business locations each week and managing their UTM's. When they found dbaPlatform they were relieved that they would be able to maintain updating content for all 208 Google My Business locations but now with just a single click. Whew!
Once Pizza Chain started using dba Platform, they were able to minimize the time from 2-3 hours to only the time that it would take to make one single post– mere minutes. Now they had freed up time each week to work on other important aspects of the business.
Based on the unforeseen influence of posts, Pizza Chain saw an estimated $500 increase in revenue per location per week.
Results
Pizza Chain was happy with their results from their UTM tracking, however dbaPlatform tracked more metrics critical to Google's search algorithm. These metrics saw substantial boosts across the board. Each section below has been broken down to demonstrate the power of dbaPlatform to lift all aspects of the campaign.
Map Views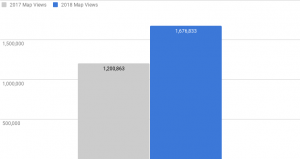 Depicted from the data above, Pizza Chain saw a 40% increase in map views year over year. This means that 475,970 more people saw their restaurant in Google Map results when they searched locally for "Pizza Chain" or "pizza near me", or related terms in the 30-day period in 2018 compared to the same 30-day period in 2017.
Search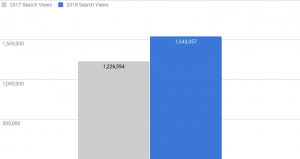 Pizza Chain was seen in search 316,763 more times in the 30-day period in 2018 when they were using dbaPlatform compared to the 30-day period in 2017 when they were not. Ranking high in search results is a powerful place to be. There is much value in beating-out the competition and appearing as a top result when people are searching for your products.
Discover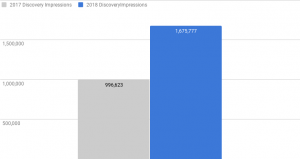 People discovered Pizza Chain in search results 58% more in the 30-day period in 2018 compared to the 30-day period in 2017. This means that people were searching more generically for a category, product or service, and stumbled upon Pizza Chain in their search results.
Direct
Direct search is traffic to a Google My Business listing by people who are searching for the exact name or address of the location. In the 30-day period in 2018 compared to the 30-day period in 2017, direct searches increased 189%. This data is important because it suggests that the brand has had improvements in brand recognition and returning customers. Understanding how customers are finding a listing is valuable and helps business owners recognize opportunities for improving visibility in other search categories by implementing other marketing initiatives.
Photo Views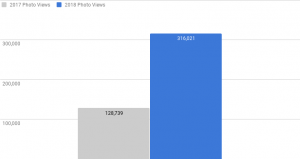 Photo views also saw a massive 145% increase in the 30-day period in 2018 compared to the 30-day period in 2017. The more a Google My Business profile is updated, the more Google views the listing as a relevant and up-to-date search result for the user. As more people continue to find a business's listing on Google, photos will be viewed by more and more people who are searching for the brand, products, or services.
People like to view photos so they can get a better feel for whether or not the business has what they're looking for. Providing those images for them only helps to push them in the right direction to visit the website, call the location, or visit the location. dba allows users to add valuable EXIF data to photos before publishing them to Google My Business profiles. The EXIF data helps the images rank in search results when people are looking for specific products or services nearby, which helps people better find what they need.
Website Visits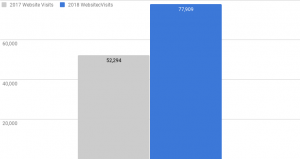 In the data above, Pizza Chain saw a 49% increase in website visits. Website visits are important for many reasons. Visits to a business's website help people gather information about a product or service before the person visits the brick-and-mortar location. It also allows the person to make online purchases via e-commerce sites, as well as, allows the business to collect other useful data with tracking pixels and cookies. Additionally, websites that have a higher level of traffic are viewed by Google as relevant and up-to-date websites which Google rewards.
Phone Calls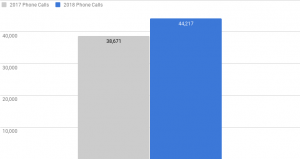 Pizza Chain received 5,546 more phone calls from their Google My Business listings in the 30-day period in 2018 compared to the 30-day period in 2017. More phone calls provide a higher conversion number for businesses. By estimating the monetary value (or revenue) generated by a phone call, a business could predict the value that could come from over 5K more phone calls. For example, 80% of phone calls become orders and the average order is $36.78 would be $163,185 in additional revenue.
Driving Directions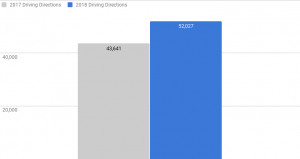 Driving directions help people find business locations more easily. Pizza Chain saw an increase of over 8,000 more driving directions while using dbaPlatform. This means people were able to search for their product, find them, and get directions to the location all from their optimized Google My Business listing.
Conclusion
Google My Business optimization makes a huge difference for the success of local businesses. The data clearly shows a significant increase across all the key metrics. Google My Business profile optimization takes only a few minutes of time when it is being managed with dbaPlatform. All locations are in one place and posts and photos can be published to multiple locations with a single click. Don't let your competitors take your spot in the search results! See what automation can do for your business and start for free today!