PLATFORM
Product Inventory
Take advantage of free and paid placements on Google, Microsoft, Simon Search, and Locally for local product inventory. Capture shoppers as they search online for the products in your local store or dealership parts department.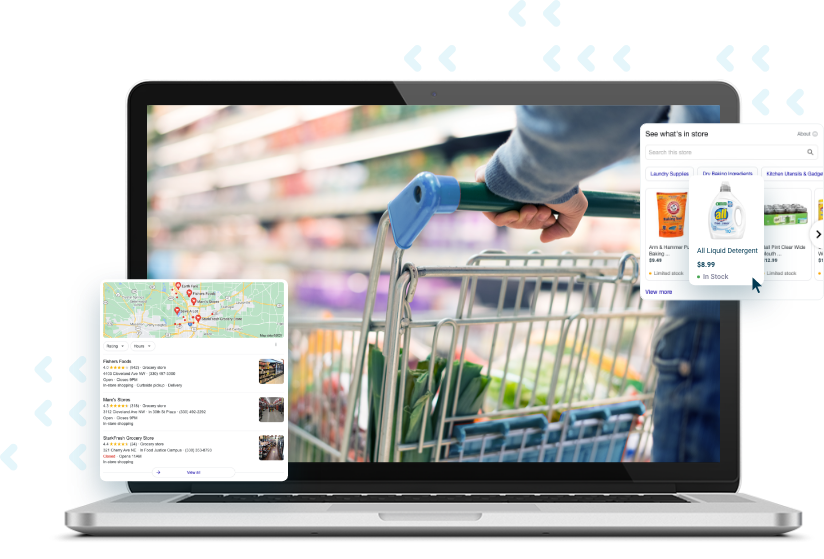 Shoppers are searching for the products in your stores. Are they finding you?
Providing a local inventory feed of in-store products to Google, Microsoft, and other consumer platforms is the best way to be found in local product searches. dbaPlatform makes it easy for retailers and brands to have their products found where shoppers are searching.

Get your local products found for free in Google search results and in the Google Business Profile "See What's in Store".

Win the competion for the attention of shoppers with Google's best-performing performance ad product.

Leverage the integration of local product data into Bing search results, the Start Marketplace, and the Edge browser.

Expand your local inventory advertising campaigns to capture Microsoft's affluent shopping audience.

Property website listings
Be found in product searches on Simon Property Group property websites.

Property kiosk listings
Participate in Simon Property Group's revolutionary in-mall kiosk search program.

Marketplace listings
Participate in the largest local-only marketplace, gaining access to 300M+ online shoppers.

Sponsored brand ads
Collaborate with brands and retail networks on collaborative local inventory ad campaigns.
Talk to a product inventory specialist today