BEST PRACTICES
3 Local SEO Mistakes Agencies Should Avoid
There are a lot of local SEO mistakes that an agency can make. Here are three of them.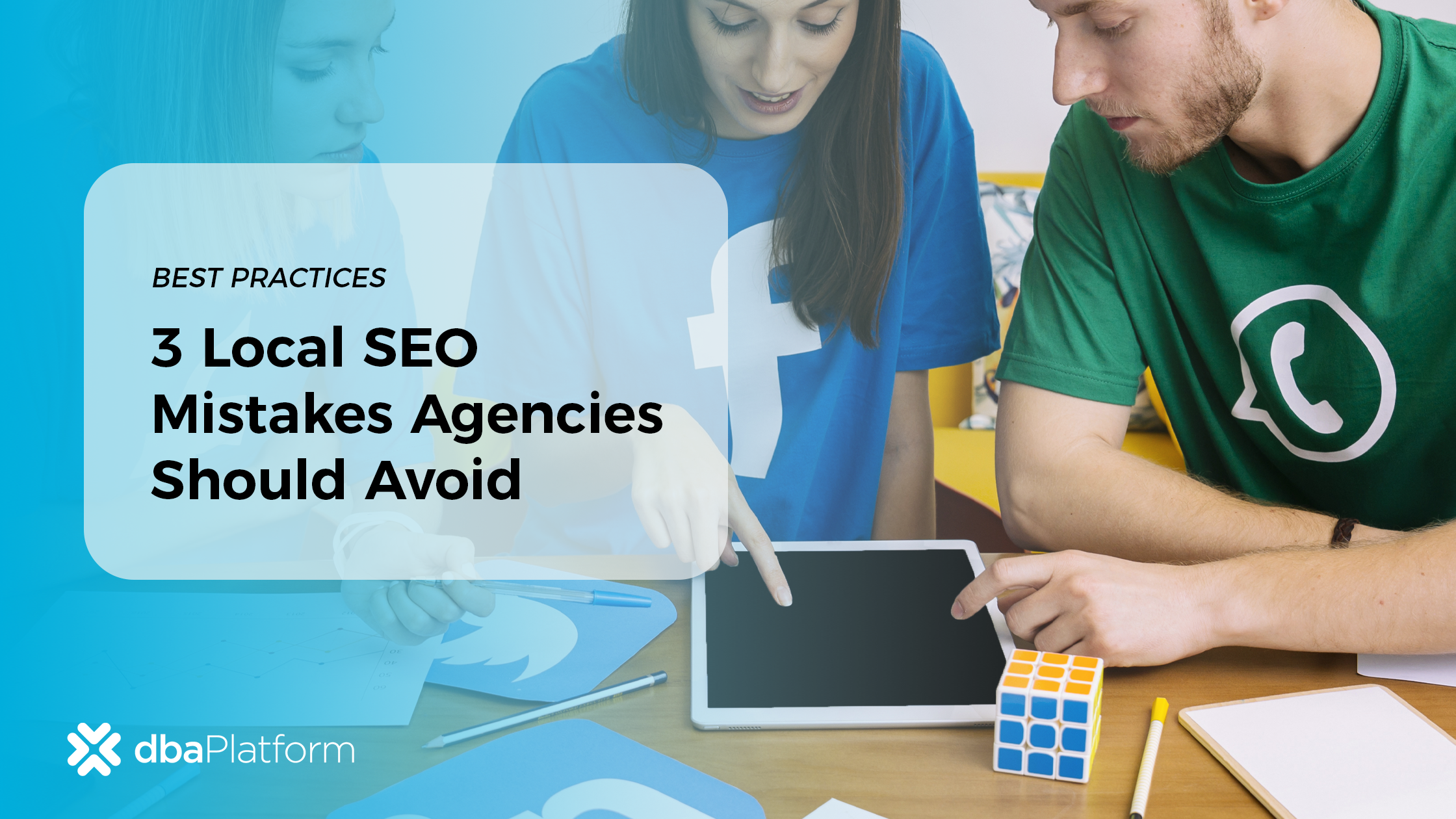 In the last few years Local SEO has come to dominate the search engine optimization industry. A brief review of recent research into search trends explains the situation:
The path from local search to sale is evident. In the scramble to execute local strategies, many digital marketing agencies are missing the bull's eye. Below are the top 3 mistakes agencies make and how to avoid them.
#1 Poor Local Search Reporting
This first mistake is less to do with execution and more to do with communicating your success. Showing results to clients is possibly as important as achieving results for any marketing agency. Business owners NEED to see ROI that is explained in terms they can understand or they will shutter campaigns which are actually working. Reports should use Key Performance Indicators that match the client's expectations.
The number one misstep agencies make is using keyword reports to track a local campaign's effectiveness. While keyword reports are nice, they don't capture the whole story. A great local search report should measure the health of a listing's influence, reputation, engagement, brand, and consistency of profile information across multiple directories.
Clients need to see more than just a page rank or domain authority score. They want to see buying actions such as phone calls, website visits, and driving directions. Put all these metrics into terms they can understand and demonstrate their ROI.
#2 Infrequent, Low Quality Content
Content is how consumers research a business and decide where they want to spend their money. The three main issues agencies face in regards to content are:
Quality–Content that is not relevant or obviously keyword-stuffed is an immediate red-flag to local searchers. Making content that resonates with an audience can be challenging, but research of the competition can help guide a strategy for great content.
Timeliness– Not only should content be high quality and strategically on point, it should also be on a regular schedule. A searcher who finds a listing and sees that the last photo or blog post is over a year old is going to assume that the business doesn't care to keep engaged with their customers. Scheduling photos and posts to publish weekly can be a tremendous boost in customer engagement and buying actions. Agencies should avoid reposting content as duplicate content can negatively impact the metrics Google uses to rank a Google My Business listing.
Geo-Specific Content– Local searches are just that– locally motivated. Customizing the content for the location the business is targeting is more likely to drive customers willing to make a purchase. Simple ways to make locally relevant content are to geo-tag photos by editing their EXIF data before publishing them on the Google My Business page. Use geographic keywords such as "near me" and make content based around local sports teams and charities.
#3 Inconsistent NAP Data
For local businesses it is important to have contact information that is consistent across all platforms and marketing channels. NAP (name address and phone number) data is one of the most important metrics in Google's algorithm for local seo. Any inconsistencies in this data between directories confuses search engines as well as consumers; resulting in a loss of trust. Using a listing management service that uses duplicate suppression is a great way to ensure accurate business name, address, and phone information.
Local SEO is becoming more and more important—need some help? Luckily, dbaPlatform provides automation and can help manage your local SEO. Schedule unlimited posts and photos, respond to every review, and lock down NAP data with duplicate suppression. Schedule a meeting with an account manager today and see why dbaPlatform is mission control for local search.