LOCAL SEO NEWS
Competitive Comparison Chart for Citations and Local SEO Tool
Who are well-known brands in the online optimization landscape? Who has the best, most complete offering for your needs?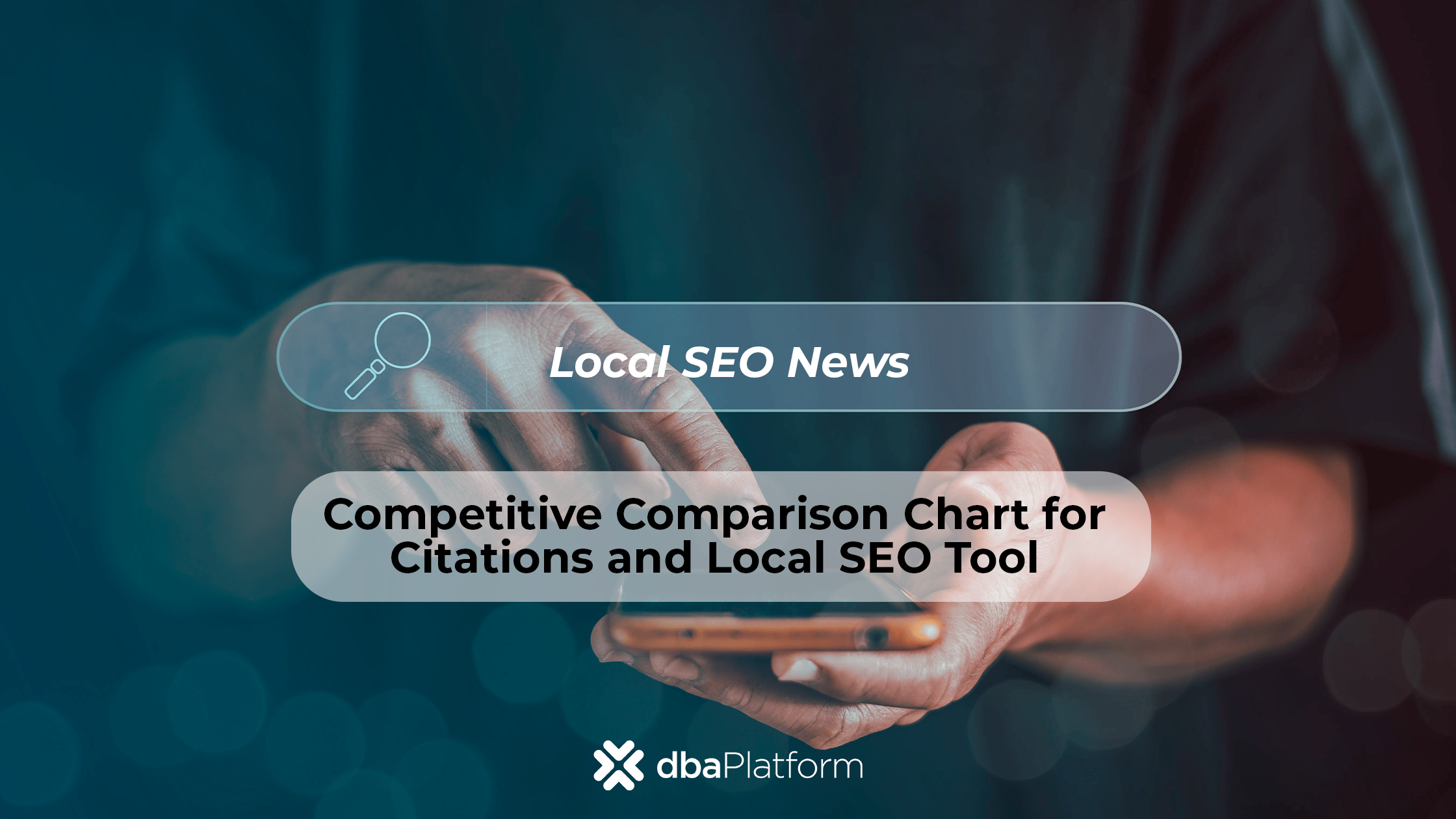 Have you heard of Yext, Moz, BrightLocal, or Whitespark? Undoubtedly, you've seen their services for citations or SEO. They are well-known brands in the online optimization landscape. But who has the best, most complete offering for your needs? Depending on your size and the scope of your project, it depends.
When you've painstakingly built the most sophisticated and elegant SaaS solutions, you know exactly how it compares to your competition's offerings in price, form, and function. But we embarked on a months'-long research project to illustrate who is doing what, so you can assess your best options at a glance.
First off, you can definitely manage your own GMB profile directly in the GMB dashboard. But there are many companies offering tools to help make your efforts more effective and efficient. When it comes to managing multiple locations, the GMB dashboard offers no respite whatsoever. So, if you need automation for multi-location franchises or agencies, these platforms provide big leverage.
The Major Services in Local SEO
GMB Optimization
There are two aspects to GMB optimization: one-time form field fills and recurring content. The one-time, or infrequently changed info, like business name, address, or phone number (NAP), needs to be correctly optimized. Other ongoing elements, like posts, photos, and reviews, need to be updated and optimized at a regular rate. Many platforms provide tools to manage your listing, meaning that you need to do the work of maintaining and making changes to your listing. They won't help you create a new GMB Post or add images to your listings. There are only two platforms that provide robust content help (and this is dbaPlatform's niche.) So, the comparison makes the distinction between GMB tool providers and GMB management services.
Citation Management
Citation management or listing management assures that the NAP information about your business is listed on third party directories and that the information remains consistent. When there's only one location, it's not a big deal, but for larger companies and chains/franchises, getting this information appearing consistent can require effort.
GMB Review Management
Responding to every review in a professional and timely manner is paramount to keeping your online reputation stellar. You can tackle this manually, but if you have multiple locations, a dashboard tool dispatches responses efficiently.
Local Rank Tracking
There are tons of rank tracking tools on the market, but few specialize in local results, and where do most leads originate? Locally, from the Google My Business profile, also known as Google Maps.
There is also a distinction to be made between the traditional line graph trackers, which provide a result emanating from just one location point (usually a zip code centroid), and the grid type trackers, which display realistic coverage-area results in a vivid display.
Read more about that here: Why You Need-to Scan Multiple Map Location Points for Local Rank Tracking
Call Tracking
Often looked over in a discussion of local SEO is call tracking, but your lead sources aren't auditable without it. The data that GMB Insights provides about phone calls is quite poor, (the only tracking that happens is when a user physically taps the "call" button on a listing.) If you rely solely on that Google-provided metic in your GMB dashboard, you may only be counting a portion of your local leads.
Choosing GMB Companies to Compare

There are plenty of local SEO and GMB tool service providers. Many focus on smaller businesses and don't handle enterprise-level clients. Many GMB service providers focus solely on one aspect of local SEO.
To make this comparison manageable, we've only included the best and most popular local SEO tools and solution providers.
Yext
Yext is most well known as a citation building service. They frequently come under fire for their "hostage" service, where the citations revert and disappear after the cancellation of service. They offer a large number of sites in their partner network but are also one of the most expensive.
Yext has a lesser-known suite of GMB tools. They call it "GMB Management Service," but it is a set of self- serve tools instead of a service.
Moz (MozLocal)
Moz is a national SEO staple, another large company that offers a gamut of tools to help with keyword research and tracking. Their local offering is similar to Yext's in that it's mostly a citation plan, with a set of GMB tools offered as an add-on.
Brightlocal
Famous in the local SEO world, BrightLocal has two core offerings, a rank tracker and a citation service. These come with automated audits and reporting that includes review monitoring.
A note on the number of sites they claim for their citation service, which can be misleading: Since they offer manual citation link building, they can create a listing on almost any random site and are not limited by a partner network. Their basic plans will not include the 1,800 sites that they claim can receive NAP data.
Whitespark
Whitespark, like BrightLocal has a rank tracker and citation service as their main contribution to enhancing GMB listings. They also offer a complete concierge GMB management service.
Similar to BrightLocal, the number of citation sites is inflated and not included in their basic citation packages.
Synup
Synup built its business model on citation building. They have recently expanded into review management as well. They do not publish pricing on their website, and you'll need to go through a sales call to get updates to their offerings. Their dashboard is quite robust, and they require a 12-month contract with at least five locations, which makes their offering less competitive.
Vendasta
Vendasta is primarily a sales and marketing platform. They are included here because they offer some GMB tools and citation and review management.
dbaPlatform
Unlike the other large software companies, dbaPlatform's best feature is that you can unbundle the pieces and only pay for the tools and services that your business needs.dba offers the most complete range of local SEO tools out of this group, which includes citation building, true GMB management, SWIS product feed, and grid-style rank tracking.
Reviewing Comparison Details
GMB Full Management Services Compared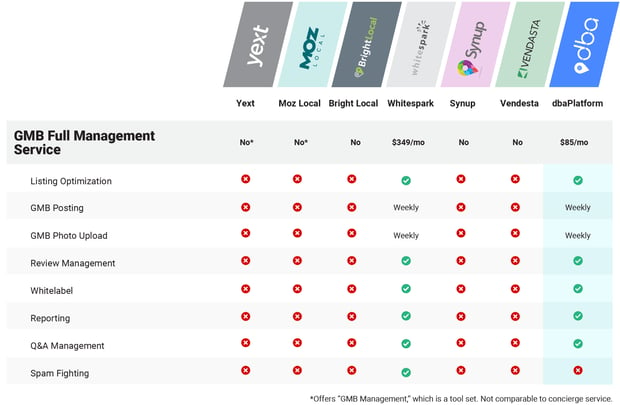 There are only two companies on this list that provide a done-for-you GMB management service. Those would be Whitespark and dbaPlatform. Whitespark costs 4X for the addition of GMB spam fighting.
GMB spam is not prevalent in every industry and would not be necessary for most brick and mortar locations.
Unlike dbaPlatform however, Whitespark doesn't have a full set of GMB tools that let you manage your listing yourself. So, the choice here is to either pay for an expensive done-for-you service or look elsewhere for tools. There is no overall dashboard integration with Whitespark's rank-tracking system or citation-building service.
Also, to avoid confusion, Yext has an offer called GMB Management, but it is comprised of self-service tools instead of the traditional white-glove service.
GMB Optimization Tools Compared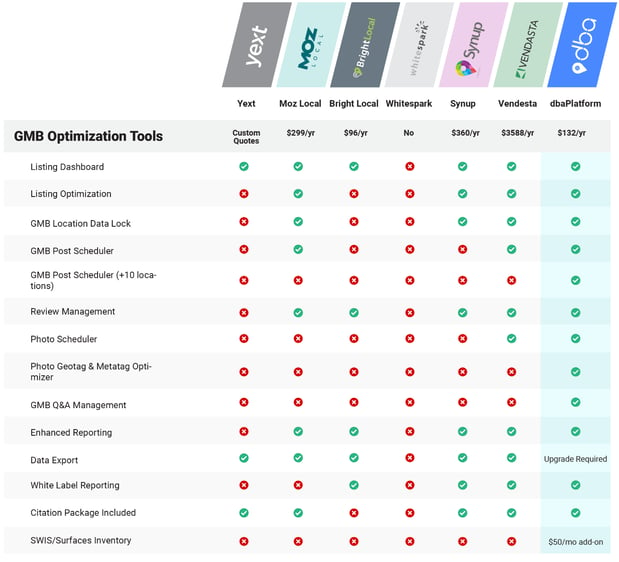 The platforms vary widely in the broad category of GMB Optimization.
For example, even though they all include scheduled GMB posting of some variety, only dbaPlatform can easily schedule posting to more than ten locations at once. All the other local SEO service providers have limited posting capability comparatively.
Platforms like Vendasta have robust dashboards with a focus on data analytics geared towards simplifying information management. The downside is that since everything is bundled, they become expensive. They charge a premium for upgrades like adding seats.
dbaPlatform is also the only company here that partners with Google directly to provide live inventory (a.k.a. SWIS or See What's in Store), which enables a business to add product skus directly into their GMB knowledge panel. That's a massive bonus for locations with an inventory.
Rank Tracking Compared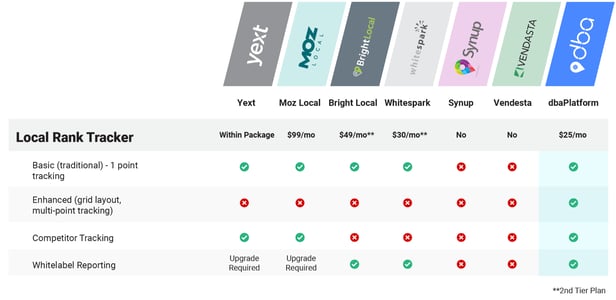 Most SEOs in the local space are familiar with rank tracking options from BrightLocal and Whitespark. With one exception, the other platforms that provide rank trackings like Yext or MozLocal have it bundled as part of the package pricing; it's not a standalone product that can be separated. Some of these have very robust reporting features with roll-up reports based on keyword or location.
All these trackers are still traditional rank trackers which extract data from one location point.

The superior local rank tracker in this group is provided by dbaPlatform (through Local Falcon). Since local rankings are heavily based on proximity, it only makes sense to display a location's ranking across its entire service area.
Citation Services Compared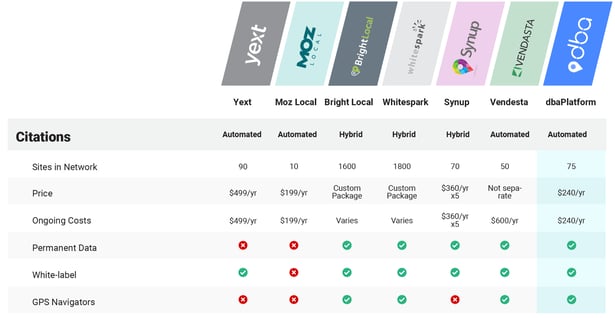 Citations are no longer about quantity. The key to having a strong citation game is about the quality of listings. Google is savvy, and they are never going to pay attention to a random listing website with no traffic. Google wants quality over quantity in every aspect of listing management. Ten great citations will always outperform 100 low-traffic listings. Ten great citations combined with 100 low-traffic citations will not make a difference either. This has been repeatedly proven, and it's key to remember when making a decision.
Yext is often viewed as the gold standard in multi-location directory listing services, mostly because they have the largest automated partner network, which makes it very easy for enterprise clients to manage their listings' NAP consistency. Synup also offers remarkably similar directory services.
Don't be overly impressed by the number of sites in their network, however. Many local SEO experts are claiming that citations are no longer as valuable as they used to be. See here.
The consensus is that citations are still important, but creating pages on low-quality sites is worthless. Focus on the more valuable sites as this is what Google pays attention to.
With that in mind, there's little to no ROI in paying Yext, or Synup to get those extra low-quality citations. dbaPlatform, for instance, takes care of the 30 quality sites for the lowest price.
Whitespark and Brightlocal claim to be able to create citations on thousands of sites, but they have different models that involve a manual process to generate citations. They don't give you the ability to automate the management of those listings. These two companies are best utilized to create niche citations where none of the aggregators push information.
Call Tracking Comparison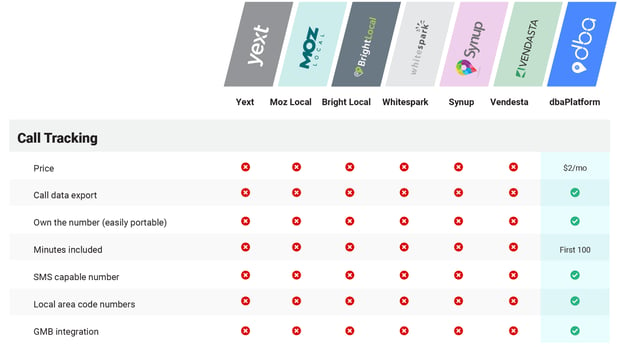 Only dbaPlatform and Yext provide call tracking within their platforms. Yext doesn't divulge its pricing, and dbaPlatform has a very competitive price when compared to other call tracking platforms.
The market is flooded with call tracking softwares to choose from– they all do the same thing. Why then use yet another service?
The Best Choice
Using different service providers to operate your citation management, review management, Google My Business management, rank tracking, and call tracking makes little sense.
Alternatively, if you don't need all those services, then paying for an expensive platform that forces you to purchase a complete bundled package doesn't make sense either.
That's why dbaPlatform is the best choice. Not only can you benefit from one single dashboard, but you can also choose tools a la carte. When you do decide to bundle, the pricing becomes even more attractive toodbaPlatform's pricing model is one of the best in the industry.
dbaPlatform is the only company that has:
Advanced grid-style local ranking
Google My Business Post scheduler to more than ten locations at once
Optimal citation creation
SWIS Google My Business integration (one of only two worldwide providers)
You don't need to schedule a demo to see our pricing (like the other enterprise-level providers that obfuscate their prices), but we encourage you to contact us, so we can tell you more about how we can help you grow your business.