LOCAL SEO NEWS
Apple Business Connect: A Must-know Guide
Apple sent a shockwave through the local listing industry when it announced Apple Business Connect to the public in January 2023. Learn the basics here.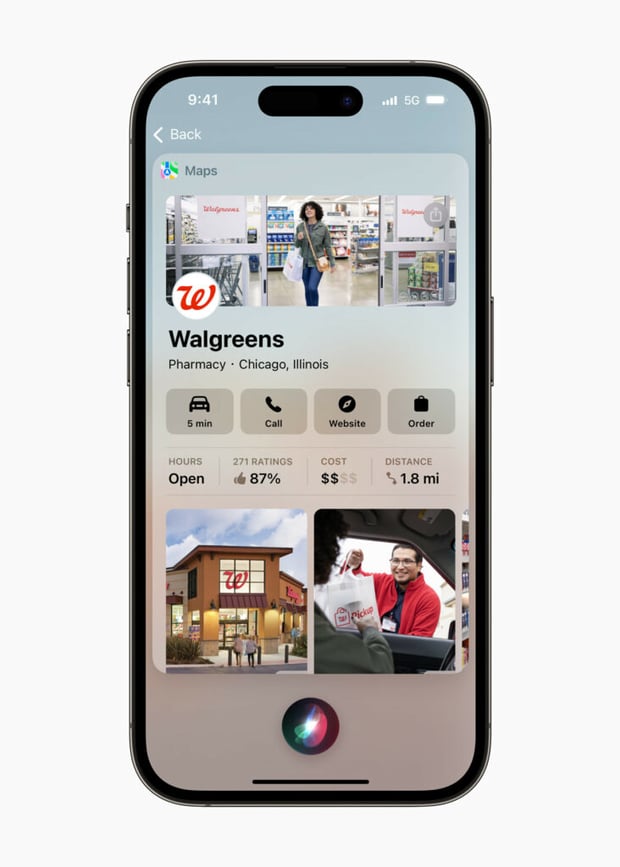 Apple announced Apple Business Connect to the public in January 2023. Replacing a simplified map profile program called Apple Business Register, the new ABC enables businesses to control, customize, and promote their business information to the billion+ Apple users worldwide. You can think of Apple Business Connect as Apple's version of the Google Business Profile.
NEW! Apple is no longer leaning on third-party data.
For 17 years, Apple relied on third-party data from multiple sources, including Yelp, Foursquare, and others, to compile business information for their users. Now, they have followed in Google's footsteps, getting first-party sourced data from the businesses themselves. Apple Business Connect is a free tool that encourages businesses of ALL sizes to claim and optimize their more robust location place cards, creating an opportunity for business owners to improve prominence across map placements. Equally, this creates responsibility for business owners and location managers to set up or claim location place cards and then manage, maintain, and optimize their listings with rigor. Let's simplify.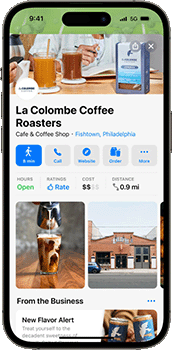 What is Apple Business Connect?
Apple Business Connect is Apple's latest tool. It empowers businesses of all sizes to adjust and manage their store information across Apple apps, including Apple Maps, Wallet, Siri, and more TBD. This free tool allows a business to publish quick-reference info such as store hours, location, and phone number.
ABC includes plenty of customizations depending on the type of business or industry. Select a business "category" and summarize "Good to Know" features like wheelchair accessibility or free Wi-Fi.
Complete text fields, upload images, create offers, announce events, and invite the audience to take an expected "Action" (e.g., call now, visit website, get directions) or something more specific to the offering like "Share" or "Order."
Features geared toward business and customer engagement.
The interface allows businesses to update, add critical information, and direct users to take action directly from the location place card. Users can quickly call, schedule a reservation, view special offers, and more. Business owners can easily share photos, promotions and direct customers to increase traffic and sales.
Notice the "From the Business" section that communicates what the business is Showcasing to the consumer. In fact, Apple Business Connect is an elegant and welcome addition to the Apple experience for consumers as much as it is for business managers. Users can get more up-to-date information, engage with offers, and pay for services in a streamlined interface.
Apple Business Connect in specification.
You'll find Apple's new program to have many of the profile fields and features found in other popular search and online profiles:
Manage the appearance of your business Place Card

Upload photos
Header images
Business logo
Hours

Promote your latest offerings through Showcases (think posts)

Sales
Seasonal products
Select from various calls to action: Call Now, Get Directions, Add to Favorites, and more.
Showcases can take up to three days to be approved and expire after 30 days unless set to expire earlier.

Apple connections

Seamless integration with Apple Business Connect place cards and other Apple services like Tap to Pay.
Enable Apple Business Essentials for 24/7 customer support.
Here are a few places (and configurations) where users will find the Apple Business Connect Place Cards:
How do I claim or set up my Apple Business Connect?
Register for Business Connect and claim your business's place card using your existing or new Apple ID. Simply follow the steps on the self-service website. Make sure to use a laptop or desktop computer while completing your registration.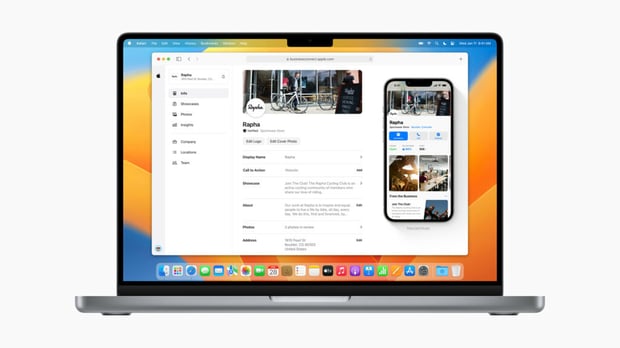 Depending on your situation, there are three independent routes to registering your business. Apple provides the following options:
1.) Small, single-location businesses
2.) Enterprise companies with 25 or more locations
3.) Third-party agencies that manage online data for other businesses (can submit via API)
Select the route best suited for your business, and Apple will guide you step by step. Apple will verify that you are an owner or manager of the business before you can begin optimizing and updating your place card. Apple provides you with the following options for verification:
Receive a verification code by phone: Click Phone Call. This is the fastest option. You can add an extension to the phone number displayed if needed. If you cannot receive a verification code at that number or if the number shown isn't correct, you can submit business documentation for review (see next option).
Have Apple review and verify you own or manage this business by submitting documentation: Click Document Review and upload an official document (such as a lease, insurance policy, or utility bill) that shows this location's name and address, then click Done. This can take up to 5 business days.
Once your business is verified, you can start optimizing your location place card (aka your Apple Business Connect profile).
Start optimizing your location after verification.
Configure place card.
Your business place card is an extension of your physical store. Users see this across multiple Apple apps when looking at your business and your competitors. Make sure you stand out by having all details filled out accurately and in sync with other online sources.
Apple Place Cards contain the following information that customers can see:
Place Card header: An approved photo and approved logo together (See Add, edit, or delete photos).
Display name: The name of the business.
Call to action: An action the user can take. See Use Actions
Showcase: Special offers and events (See Create an engaging Showcase).
About: A brief section about your business and possibly this particular location.
Photos: Additional photos approved by Apple.
Address: The address of this location.
Phone: The phone number for this location.
Hours: The hours this location is open for business.
Website: The website for this business or specific location.
App: The link to your app in the App Store.
Categories: The type of business.
Good to know: Does this location offer any of the following: Wheelchair Accessible, Street Parking, Parking Garage, Pets Welcome, Accepts Credit Cards, Contactless Payments, Accepts Apple Pay.
Status: Whether the location is open, permanently, or temporarily closed.
Locations in your organization also contain the following information that customers can't see:
Default language: The default language for that location.
Store code: The store code—for example, 02, 03, and so on.
Verification date: The date Apple verified your location claim.
Partner ID: An identifier you can enter to refer to your location. This is optional for small businesses but required for enterprise organizations and Third-Party Partners, so they can take advantage of Apple Business Connect APIs.
Source: Apple, Place Card Configuration
Apple Business Connect on dbaPlatform?
Coming soon! The dbaPlatform makes easy work of configuring, monitoring, and troubleshooting all your online listings at scale. Now that Apple has launched its exciting first-party data profile offering, dbaPlatform is getting ready to announce its powerful dashboard integration to match. In the meantime, if you need help configuring for Apple, Google, Microsoft, or other vital local presence networks, connect with us and be the first to reap the benefits of new the new online territory. Whether you are a new or current partner, be one of the first people to receive access to manage ABC place cards via dbaPlatform. Schedule a call with our team now, https://dbaplatform.com/#ContactSales.