GOOGLE BUSINESS PROFILE (GMB)
Essential Guide to Increasing Your Google Business Profile Rankings
Optimizing your Google Business Profile is critical, but where to begin? This article covers the basics before you move on to more sophisticated concepts.
"How Can I Rank Better on Google Maps?"
This is the most common question for business owners that are beginning to go beyond the setup phase of their Google My Business profile. Business listings on Google Maps are becoming more nuanced, more powerful, and more accurate, allowing potential consumers to quickly get the information they need to make a decision about your business. Make sure your Google My Business listing is in optimal shape, so you achieve and maintain a higher rank on Google Maps.
Of course, there are plenty of optimization areas to look at if you want to improve your Google Maps ranking, but some take precedence before continuing into more advanced SEO tasks.
Here's what you want to do (in this order):
Choose your Google My Business categories properly
Decide the relevant keywords (using keywords in your Google My Business name can help rankings, but stay within guidelines)
Optimize your website
Report competitors that are breaking guidelines
Confirm directory citations
Fill-out all your Google My Business profile fields
Collect customer reviews (and reply to them)
Schedule consistent Google My Business posts
Add images and video to your Google My Business listing
Add Questions and Answers to your Google My Business listing
Bonus: Familiarize yourself with algorithmic issues that affect some listings
NOTE: Checking Your Rankings
Before we get started however… how are you measuring you ranking improvements? If you are checking from your local computer, or even using a traditional rank tracker, we encourage you to take a look at this artcle and learn about Google Maps rank coverage area.
1) Make Sure Your Categories Are Set Correctly
There are a lot of Google My Business categories from which to choose. They don't always match-up with what your business provides, but there will be a category that matches exactly the service or product you provide. Many businesses stop at one category, but depending on your vertical, more categories will enhance your chances of being found for unrelated products and services. You need to select a primary category, and then you will be able to select additional categories.
Make sure your primary category reflects the main keyword(s) for which you're trying to rank. If you are unsure what category to choose, check what your competitors are using by typing your main keyword into a Google Maps search and investigate the most common profiles. If you are in a less competitive area, perform a search in a large city.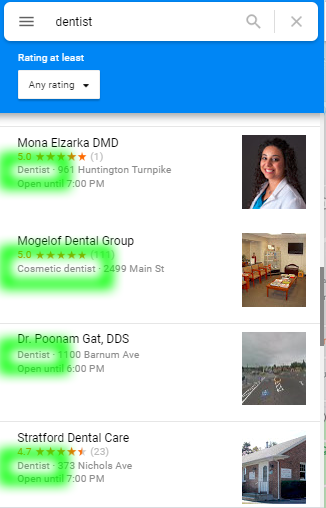 There are many categories to choose from in some industries. Make sure you check properly and select all the relevant ones. Dentists, lawyers, restaurants all have many category choices. If this is the case for your business, a good rule is to choose the most specific category as the primary category.
For example, a pizza restaurant would have "Pizza restaurant" as it's primary category, with "Italian restaurant" and "Restaurant" as additional categories. The order of the additional categories does not seem to make a difference, but choosing the correct primary category is paramount.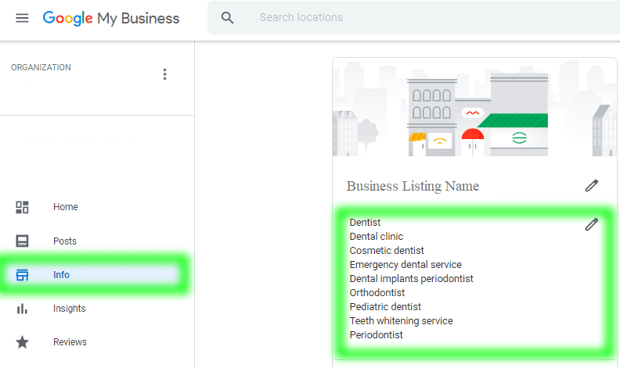 2) Setting the Title of your Google My Business Business Listing
The name used on your Google My Business listing is arguably the most important Google Maps ranking factor. However, since you need to use your official business name in this field, you cannot just put whatever keywords you want in order to rank better.
The official Google My Business guidelines can be found here: https://support.google.com/business/answer/3038177?hl=en
They state state that:
"Your name should reflect your business's real-world name, as used consistently on your storefront, website, stationery, and as known to customers. Accurately representing your business name helps customers find your business online."
"Your name must not include:
Marketing taglines.

Not acceptable: "TD Bank, America's Most Convenient Bank", "GNC Live Well*".
Acceptable: "TD Bank", "GNC"

Service or product information about your business, unless this information is part of its real world representation or this information is needed to identify a department within a business.

Not acceptable: "Verizon Wireless 4G LTE", "Midas Auto Service Experts"
Acceptable: "Verizon Wireless", "Midas", "Best Buy Mobile", "Advance Auto Parts", "JCPenney Portrait Studios"

Location information, such as neighborhood, city, or street name, unless it is part of your business's consistently-used and recognized real-world representation. Your name must not include street address or direction information.

Not acceptable: "Holiday Inn (I-93 at Exit 2)", "U.S. Bank ATM – 7th & Pike – Parking Garage Lobby near Elevator", "Equinox near SOHO"
Acceptable: "Holiday Inn Salem", "U.S. Bank ATM", "Equinox SOHO", "University of California Berkeley"
Despite the guidelines, businesses often add keyword descriptors to their listing name because it helps them rank better. Fair warning however, adding extra keywords to your listing puts your listing at risk of being suspended.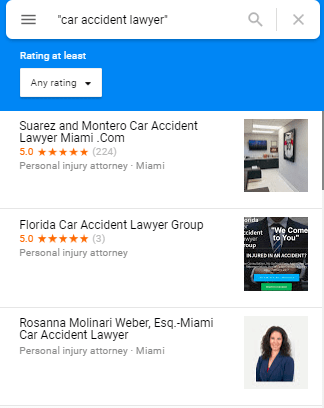 You'll notice in the first and third examples in the image above, the addition of "car accident lawyer" in the business name does not adhering to Google's guidelines. The keywords are undoubtedly added to improve rankings, perhaps unwittingly putting the business at risk of being suspended.
The second listing contains the same exact keywords in the actual business name which is perfectly acceptable because (presumably) that is the actual legal name of the business. If you have flexibility with the name of your business (for example, as a start-up,) it is a great idea to work in a keyword (or two) if possible.
3) Optimizing your Associated Website
Found on the "info" tab in the Google My Business dashboard is the "website" field. This is where you can add the url of your business's website, and also a contact page (as the "appointment" url.) Sometimes, there will also be a "menu" or other url option, depending on the categories that were chosen.
As much as Google is trying to get between the potential customer and you, by providing information via the Knowledge Panel, the ranking algorithm still needs to use your website to collect data. Remember, the more data Google has about your business, the better your business will potentially rank. That's why it is very important to make sure your site is properly optimized and contains all the relevant information for which you would like to be found.
Google even tells you that what you have written on your site is important to Maps rankings in some searches.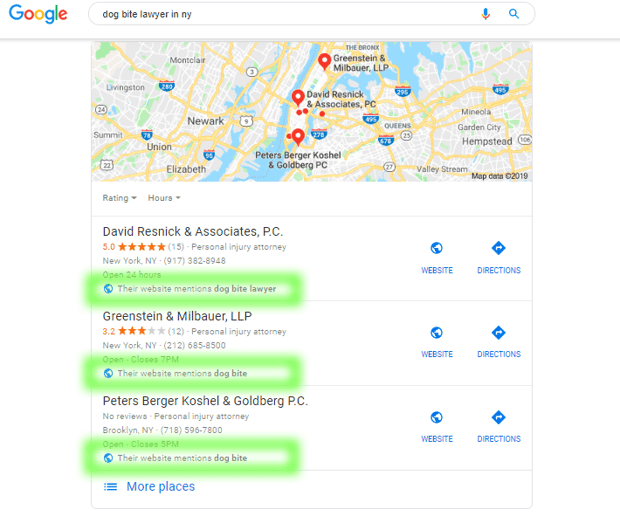 SEO for an entire website is a big topic, so let's run down a few important things related to ranking higher in Maps:
1) Make sure your site is indexed in Google – As crazy as this seems, more than 2% of business sites are not showing at all in a Google search because they have effectively, if accidentally, told Google to "go away". This can happen because a simple setting in wordpress was left checked, or a developer forgot to change a setting when a new website went "live".
Perform a "site search" to see which pages of your site are indexed by Google. Do this by typing into a Google search bar:
site:yourdomian.com
If you see pages from your site listed, great. If you don't see any pages, you have a problem to fix.
2) The Home Page title must contain the business name, main keywords and location – If your business is named "K9 Pet Spa", located in Asheville, and you are trying to rank for "dog grooming" then make sure that your home page title contains all of that information. It should look something like this:
Dog Grooming in Asheville– All Pets Welcome | K9 Pet Spa
3) Make sure you have sufficient text content on your home page – It happens frequently that in trying to make the home page look clean, sparse, and modern, too many images are used and there is not enough text. The algorithm needs to read actual text (not text found in images) to know what your site is about. Add lots of readable content that makes sense to a person, and make sure you also use the keywords you want to rank for.
4) Create a separate page for each service – Each different product or service needs to have it's own page, with a relevant title and specific focus. The more information Google sees on your site, the more keywords you can rank for. This is true for organic listings and maps listings. If you have a one-page site, think about splitting it up.
5) List your address and phone number on your website – You want the Google algorithm to be able to match the address and phone number on your listing with the information it finds on your site. Make sure the information is the same. Caveat for multi-location businesses or if you are using call tracking: there are specific ways to handle your contact information to keep directory information consistent– makes sure you know how it works.
If this stuff seems basic, check yourself. It's super common that the small business owners and web designers who create sites are not SEO experts. These elements will hold back your rankings if not handled properly.
4) Reporting Competitors that are Breaking Google Maps Guidelines
There are two main offenders to mention here:
1) Legitimate listings that are keyword stuffing (adding keywords to the name to help rank for those keywords)
2) 'Fake' listings that are created to try to get more visibility (often they are found for service area businesses and lead generation companies)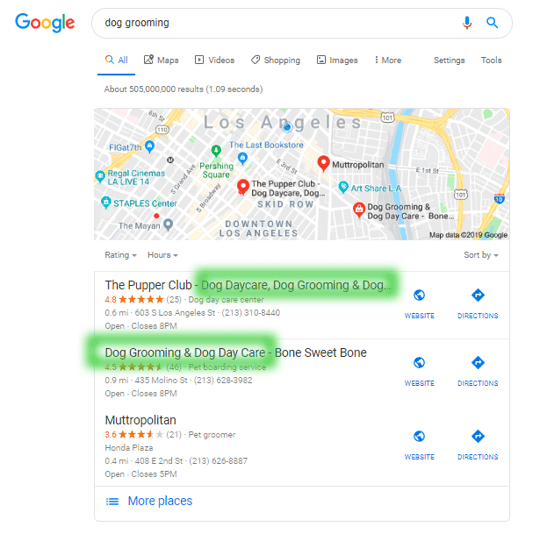 As you can see in the example above, the first two listings are real businesses but have added extra keywords to their name in order to rank higher. While it doesn't mean the removal of those extra words will make the listings completely disappear, they probably won't be ranking in the 3-pack anymore.
As much as it must pain Muttropolitan to be sitting in third position, instead of first, the listings that are ranking fourth and fifth are possibly losing out on much potential business by not showing up in the 3-pack at all.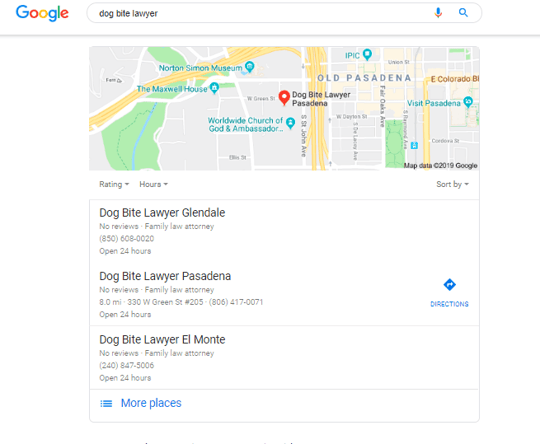 The second case of completely fake listings should also be concerning to business owners as well. Unscrupulous businesses can sometimes create many fake listings that push all the legitimate businesses completely off the first page.
In both these instances, you will want to report the listings to Google to ensure that your business receives the proper visibility it deserves. There are a few ways you can do this, but we recommend that you use the Business Redressal Complaint Form provided by Google to report these listings. It may take a few weeks, but once those listings are removed, your listings will rank higher.
5) Directory Listings & Citations
Yes, they are still important: name, address, and phone number (NAP). Not to sound repetitive, but…your business's ranking in Google Maps is directly related to the amount and accuracy of the information Google finds about your business. The more information you provide to Google, the more info Google can provide its searchers, and the more "comfortable" it will be ranking you higher in its results.
That is why citation and directory pages, even though no real person may be visiting them, even though the pages are sometimes on weak domains, can still help your Google My Business rankings.
Take a look at this local citation case study done by an independent third party agency and you will see the improvements that occurred over a period of a few months to their test listing due only to creation and indexation of citation pages. Local Falcon ranking scans of starting and ending points are shown below.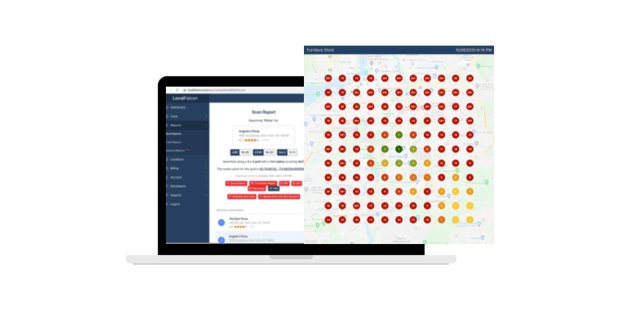 If you are a new business– or especially an older business that has moved locations in the past– we encourage you to take a look at purchasing a citation burst to cover the most important directories to update your NAP consistency. It is definitely more cost-effective to do that than to spend time manually updating them all yourself.
6) Completing all Google My Business Profile Fields
These are all the fields you will find on the Info tab of your Google My Business dashboard:
Business Name
Categories
Address
Service Area
Hours
Special Hours
Phone Number
Profile Short Name
Website
Appointment Url
Menu Url
Services
About
Accessibility
Highlights
Offerings
Planning
Description
Open Date
Some categories of businesses will see more or fewer fields, but these represent the ones that most everyone will see.
We've already covered Business Name and Categories in detail. The other fields are fairly self-explanatory. Fill-out as much information as possible for every field– the more complete, the better. None of them have a direct impact on rankings like the first two; the rest provide much weaker signals, if any.
Even the Description or Services fields do not provide a ranking boost that anyone has demonstrably shown, however, if this information is visible to mobile users and helps with click-through rate and conversions. Google may change the algorithm at any point to include the text in these fields in their ranking calculations.
Google actually has a page called "Improve your local rankings on Google". In that page you will find sections as such these:
Can't find your business? Improve your info.
Enter complete data
Keep your hours accurate
Follow their advice.
7) Customer Reviews and Replies
Good customer reviews and ratings are obviously great for getting new customers.
But do more good reviews mean higher rankings?
Review text is sometimes pulled into the Google Maps results when it matches or is associated to the keyword phrase used in the search. It's only logical to conclude that the more reviews you have, the more chance that corresponding text will be found to match-up with a search phrase.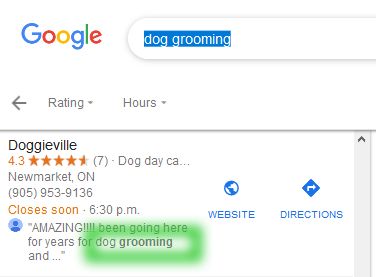 There is no evidence that there is a direct relationship between more reviews and higher rankings. More reviews (and more snippets like in the image above) encourage more searchers to click on your listing which suggests that a listing is a more relevant search result than another. Google is trying to provide good results and one of the ways it measures how to do that is to count how many interactions your listing is getting compared to others.

How about replies to reviews, does that help rankings?
In the above linked Google article about how to improve your local rankings, Google states this:
"Interact with customers by responding to reviews that they leave about your business. Responding to reviews shows that you value your customers and the feedback that they leave about your business. High-quality, positive reviews from your customers will improve your business's visibility and increase the likelihood that a potential customer will visit your location. Encourage customers to leave feedback by creating a link they can click to write reviews."
Google is making it pretty clear that attracting and responding to reviews helps rankings. Not only does responding to reviews build trust with your customers, but it builds trust with the search engine itself. It only makes sense that Google wants to recommend the most credible businesses to their customers. The more interactions you have with your customers through the Google My Business portal, the more Google will trust that the information contained in the listing is accurate.
8) Consistent Google My Business Posting
Google Posts have only been available since July 2017, but we can properly answer this question…
Does using the Google Posts feature help increase rankings?
Google does not specifically state that it does help rankings, but lots of other local SEO professionals have tested this and the answer is yes!
Similar to the Reviews and Replies answer above, the more interactions that your listing accumulates, the more Google will trust the listing. Interesting Google Posts definitely increase the chances of interactions.
Here are examples of Google Posts being pulled into Maps results:

Lastly, we have a Google Post study done by Google Gold Product expert, Joy Hawkins providing an example that, indeed, Google Posts do have a positive impact on your rankings. Here is her main conclusion:
"Google Posts do have a mild impact on ranking. These tests were purposely done in non-competitive industries, so it might not be enough to produce movement in some scenarios."
And although effects may last for a few weeks even after you stop, eventually the ranking improvements will subside if you discontinue posting.
Using the Google Posts feature can be a chore though. Every week you have to log into your Google My Business dashboard and create a new one when the old one is expired. It's much more efficient to create a batch of Posts in one sitting and then schedule them to automatically go live each week during the next few months. You can't do this directly through your Google My Business dashboard however, you need to be using a third party tool that has connected to the Google API where you can schedule Posts ahead of time. For guaranteed ranking improvement, it is a very low cost task to take advantage of. Plus, the posts prompt searchers to take action.
9) Adding Images to your Google My Business Listing
Check out what Google has officially stated about photos on their "Improve your local Rankings" page:
"Providing and updating business information in Google My Business can help your business's local ranking on Google and enhance your presence in Search and Maps….Adding photos to your listings shows people your goods and services, and can help you tell the story of your business. Accurate and appealing pictures may also show potential customers that your business offers what they're searching for."
So yes, adding images (and now videos) will help your Google My Business rankings.
However, the devil is in the details….
If you look at your Google My Business Insights tab you will see a section like this: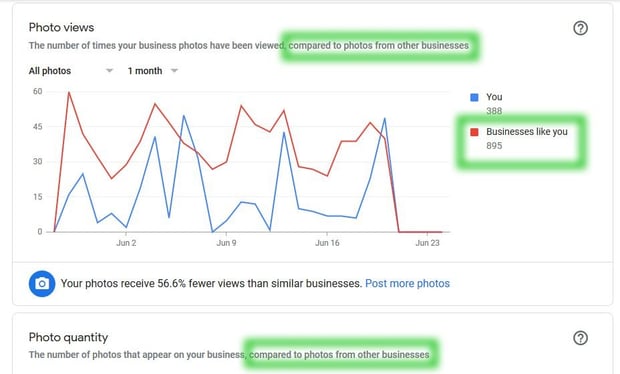 10) Questions and Answers for your Google My Business Listing
The text highlighted in green makes it pretty clear that Google wants you to have more photos than your competition. However, uploading hundreds of photos all at once so that you have more than your competition, doesn't jibe with what we know about Google's preferences which is that Google wants to see continuous activity on your listing. Just like creating a weekly Post, it's better to upload a few images every week versus many at the same time and then nothing for months.
It's also important to know that meta data can also be added to images. (To learn more about image metadata, read this guide by Pixpa.com)
Remember, the more information you provide to Google, the better.
Bonus Section – What Else Can Affect Local Rankings?
There are a few other items to add here that may be affecting your Google listing rankings. They are pretty specific situations but are worth mentioning.
1) If your listing is new it can take time for its full potential to be reached. Estimates are that it can take up to three months before the algorithm compiles enough data to be really confident and provide the listing with full power. This is often brought up in situations where a business owner opens a new location and the new listing is overshadowed by the old listing making it difficult to be brought up in a search.
2) If you have a duplicate listing at the same address, this will impact the visibility of either one of those listings at any given time. Duplicates often go unnoticed for a while and can be effectively splitting your ranking power, especially if both listings are receiving reviews. Local Falcon scans can sometimes pick up on duplicates and return odd-looking results that jump between good and poor rankings intermittently because the system is sometimes returning the stronger or weaker ranking listing at different points.
3) Similar to the effect above, when there are many listings within the same category, located at the same address, the algorithm will filter some out and not display them within a certain range. This occurs primarily with large office buildings. In the example below, at the center of the map there is a building with over 30 lawyer listings.
The results for the listing below is atypical since usually the best ranking point for any business is at its address, and one would question its accuracy. However, this was completely checked out with manual scans and it is purely a result of algorithmic filtering because there are so many similar listings located within a small area.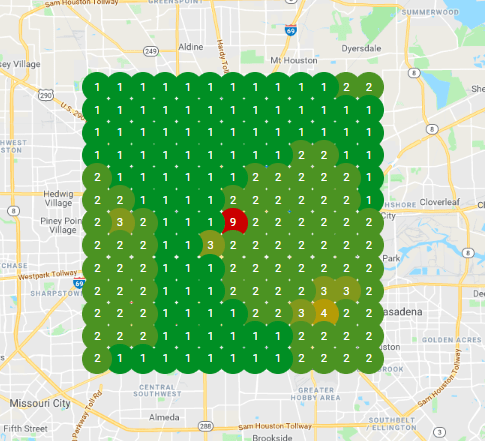 Now that you know the top ten ranking factors for Google My Business, it's time to take action!
Many of the tasks listed here to help your Google My Business listing rank higher are not one time deals, and will require continued effort. If you have multiple listings to manage, making the most out of all those Google My Business features can quickly take up a lot your time. That's why dba Platform exists. It is a powerful suite of SEO automation tools that allows you to manage multiple Google My Business profiles' local presence as efficiently as possible. We call it "Mission Control for Local Search". Connect your account for free today.
About The Author