GOOGLE BUSINESS PROFILE (GMB)
Removal of Fake Google My Business Profile Listings
Fake listings on Google Maps are business listings that break Google guidelines. Read more about how guidelines are being broken in a number of ways.
What are Fake Listings on Google My Business?
Fake listings on Google Maps are business listings that break Google guidelines. Guidelines can be broken in a number of ways that give an advantage to a listing for it to rank higher. Fake and spam listings on Google My Business are very common in service area industries.
Your business is likely competing against fake listings in Google My Business. And it directly impacts the number of leads your business receives.
So, it's important to periodically check the listings in your market area to ensure that your Google My Business profile is not getting pushed out by spam.
Here are the official Google guidelines for representing businesses.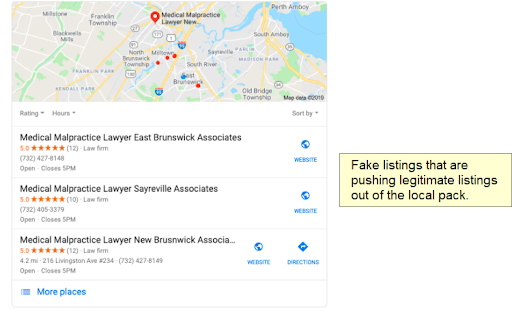 Different Types of Google My Business Listing Spam
Identifying fake business listings on Google Maps ranges from easy to 007 James Bond-level investigative work. There is overlap in the patterns, but in general, these are the most common attributes to look out for on Google Maps:
Fake Lead Generation Listings – These listings are created to collect names and are set up to function purely as lead generation to sell to other legitimate businesses. This frequently occurs in the attorney and insurance industries.
Fake Multi-location Listings – Usually created by small business owners in service area industries (plumbers, electricians, roofers) where the business service is done at your home. These listings are created for more visibility on Google Maps in different city areas.
Keyword Stuffed Legitimate Listings – Keyword stuffed refers to the fact that the business name uses extra descriptive words in the business name to help rankings. Many of these are legitimate businesses knowingly or unknowingly using this naming tactic to help their rankings.
Algorithmically Created Listings – These are listings that the Google algorithm has automatically produced because it has found a reference to a business name and address on a directory site. These listings are often not claimed by any owner.
Closed Businesses – These are businesses that were once open but are now closed. It will stay open and visible on the map until someone reports the listing as closed.
Why is Google not doing more to eliminate fake Google My Business Listing Spam?
The main answer seems to be that Google has underestimated the creativity of spammers to create listings. Google has focused on creating algorithms and automated processes to help reduce human input for the creation of business listings, and these processes are getting exploited by spammers.
In a Wall Street Journal article about Google spam, Google Maps director Ethan Russell said
"the company removed more than 3 million false business listings in 2018. The company last year also disabled 150,000 accounts that uploaded the made-up listings, he said, up 50% from 2017."
Some say that Google can do much better at fake listing blocking and removals but don't because they want to push businesses into paying for Google Ads instead. Leaving a certain number of fake listings is just a tactic to generate more revenue for Google.
The bottom line is that Google Maps has had fake listings on it since its creation, and since Google does not care at all about how your business is affected by fake listings, it is up to you to deal with them by reporting.
What Industries are Affected the most by Fake Google My Business Listings?
Fake Google listings impact every industry. However, the worst are competitive industries where each lead has a high value, such as lawyer listings and listings that are designated as service area businesses (SABs). These have the most completely fake listings.
In the case of listings that display their addresses, like most attorneys, they often set up fake listings at virtual office locations or post office box addresses. These are easy to locate since it simply matches the address on the listing with the address of a virtual office like Regis, or a P.O. Box location like a UPS store.
Fake SAB listings are found in every niche, including plumbers, roofers, carpet cleaners, limousine rentals, etc. They are sometimes more difficult to prove false since there is no address to check. In these cases, you will need to go to the associated website of the listing and look for information on the site that will help you.
How to Spot Fake Listings on Google Maps
Sometimes it takes a good amount of effort to prove that a listing is not legitimate or breaking guidelines. However, if a fake listing is bumping your listing out of the local three-pack, that is a lot of potentials lost business to you and can certainly be worth your time.
As mentioned before, you may have to channel your inner Sherlock Holmes to find fake listings, but the place to start is to perform searches on Google Maps using your main keywords.
There are three main things to look for initially:
Listings that do not seem to have a real business name
Listings that have extra keywords in the name
Listings that seem to be connected or named similarly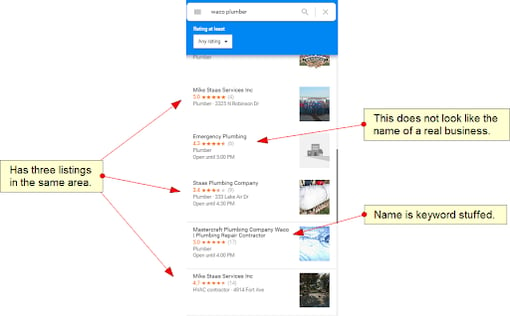 Another, more efficient way to look for spammy Google listings is to run a Local Falcon scan and review the scan report for businesses with a tremendous presence in the target market. That way, you are focusing your reporting on listings with a high risk of outranking you in any given spot.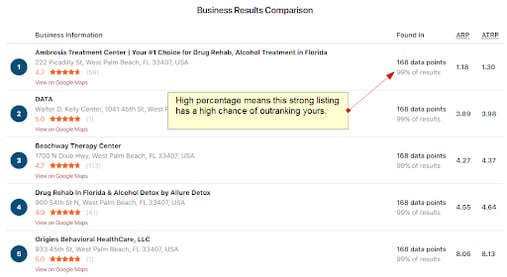 The presence of reviews is not an indicator in any way. Fake listings often have fake reviews. Fake reviews actually can often help prove that a listing is fake if the users leaving the reviews have a spammy pattern of abuse.
The absence of an associated image is often a clue that the listing is not legitimate. They are most likely images that have been automatically created by the Google algorithm or by spammers.
Sometimes a listing has the pattern of being fake but is really a legitimate business. You will want to confirm that a listing is actually breaking Google guidelines by visiting their website and checking their address etc.
How to Report Fake Google Business Listings
Once you are ready to report a fake Google My Business spam listing, you can start by using the suggest an edit feature found in the listing itself.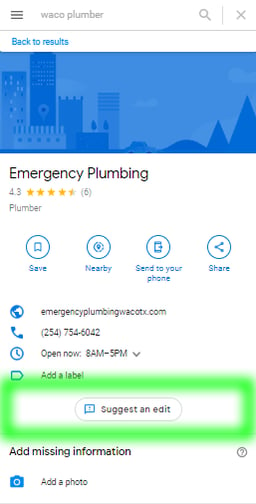 However, short of choosing from one of the preset options, there is no way to add an explanation to the submission.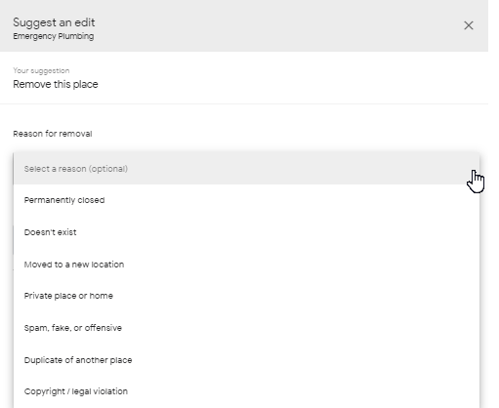 A more robust way to report a listing to Google would be to use the oddly named Business Redressal Complaint Form.
https://support.google.com/business/contact/business_redressal_form
With this option, you can enter an explanation or upload a document with screenshots to help prove that the listing should be removed or renamed.
Be as clear as possible which guideline is being broken because the people reviewing these forms are often based overseas and do not necessarily know the usual North American business practices.
The Reality when Dealing with Google and Fake Google My Business Listings
Reporting fake listings can be time-consuming and frustrating. Often your suggested edits on obviously spammy listings will be denied by the Google algorithm without a human even having a chance to look at it.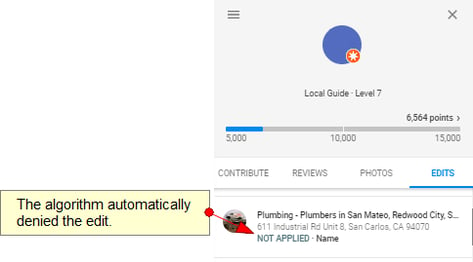 If the edit goes through, it will say pending until someone looks at it. This can take weeks.
Submission through the complaint form can also take up to three weeks to be checked.
Many business owners are frustrated and have been hurt financially by spammers. Can Google be doing a better job of helping small business owners deal with this fake listing problem? Of course, they can and should.
But right now, the two reporting mechanisms mentioned above are the only way to report a Google business listing that is breaking the rules.
About The Author
Yan Gilbert

Yan is the creator of Local Falcon, the original Google Maps grid tracking system.
Currently the VP of Product & Growth here at dbaPlatform and Senior SEO at Toronto based, SterlingSky.

When not in front of a computer, he is either working on a house project or coaching soccer.
Connect with him on Twitter @YanGilbertSEO