GOOGLE BUSINESS PROFILE (GMB)
Expanding the Google Business Profile Knowledge Panel With Great Content
For many searchers, there is almost no reason to visit a company's website. All the information they are seeking is summarized in the GMB knowledge panel.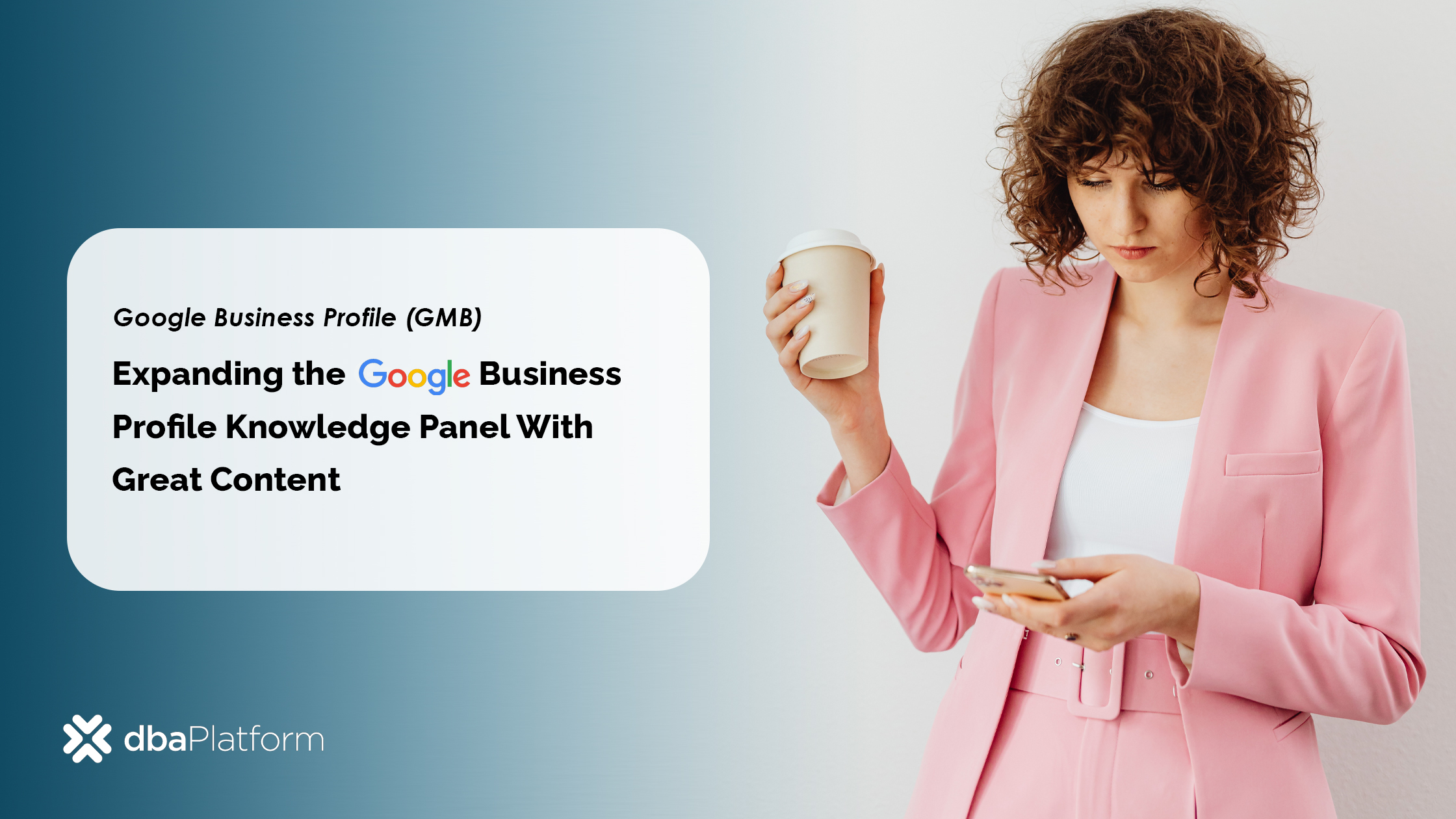 For many businesses, the Google My Business profile has become the single most important webpage in terms of attracting new customers. For many searchers, there is almost no reason to visit a company's website anymore since all the information they're looking for is neatly summarized in the Google My Business knowledge panel.
Here is some of the information that can be found in the knowledge panel:
Hours of operation
Phone number
Address with driving directions
Reviews
Questions and Answers (Q&A) that either users or the business add to the profile
Informational posts that the business added to the profile
Images & Video of the location
Products & services that the company offers
To give you an idea of how much information there really is, below is only one knowledge panel (KP) profile for a restaurant. It's split up into columns here because it's so long!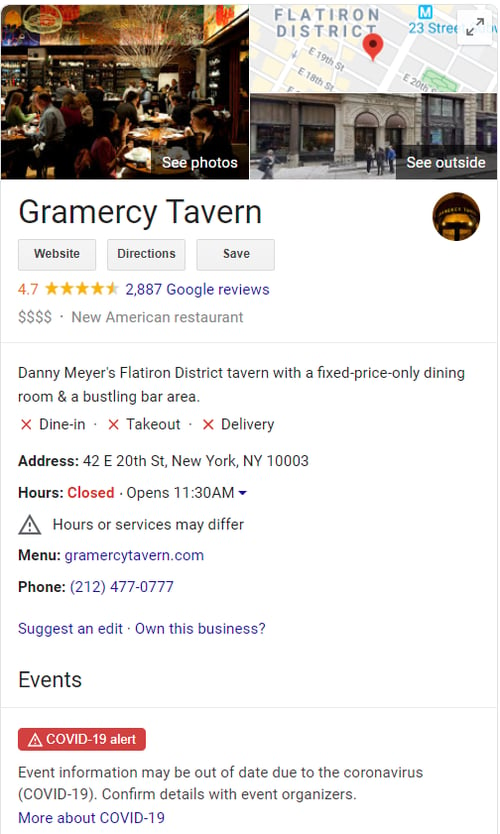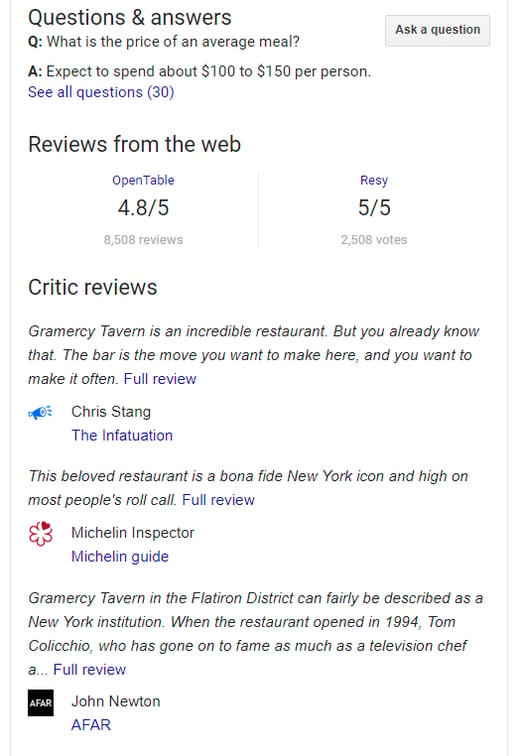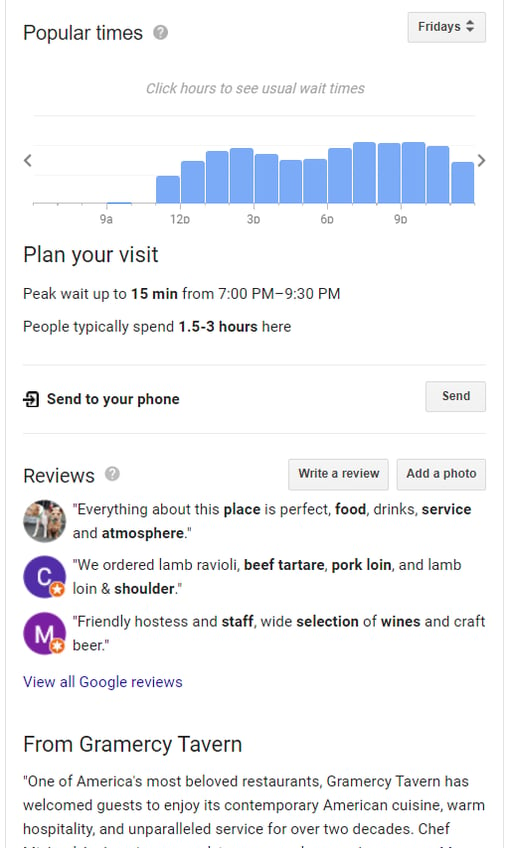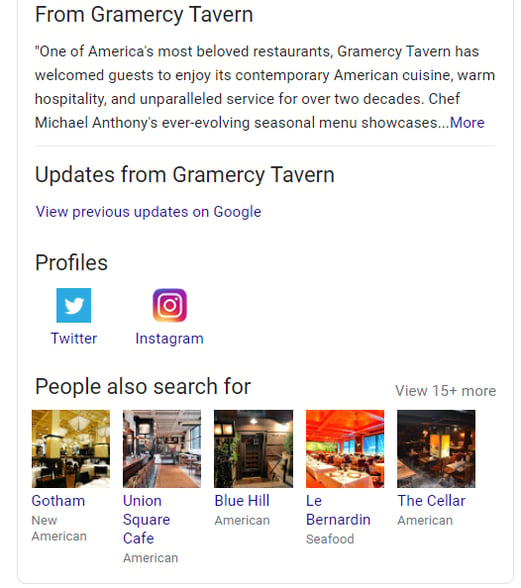 Going deeper into the knowledge panel, you'll find:
Attributes
Menu link
Events
Critic reviews
Popular times
Business description
Social profiles
That's a lot of information all in one place but Google's carefully planned and standardized format makes the data digestible!
If you think about it, eventually no one will have to visit a local business website because the pertinent information will already be on Google itself.
Some Knowledge Panel Sections Expand to Give Greater Details
More information is contained in the expandable sections such as the reviews section. Besides the standard sorting by rating or date, if there are enough reviews, Google will create groups of keywords to help you find exactly what you are looking for.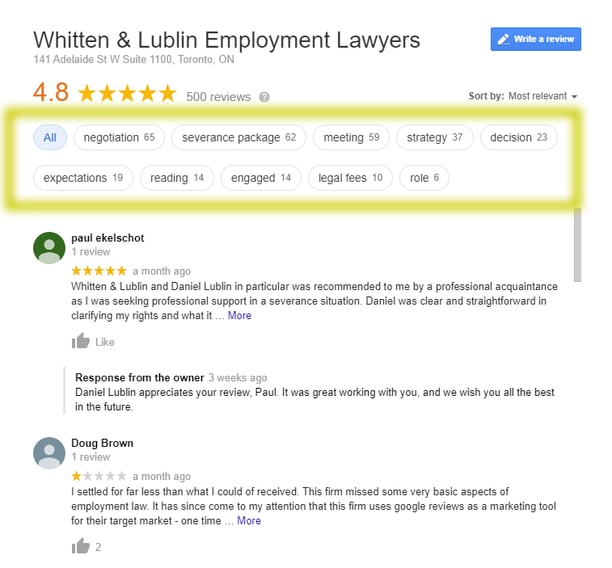 The Knowledge Panel is Not Only for Static Information Either
Google My Business posts enable the business owner to get timely information onto their profile as well. There are various post types with different calls to action. In general, Google encourages weekly posting of information so that the post stays visible without a user having to click further into the KP.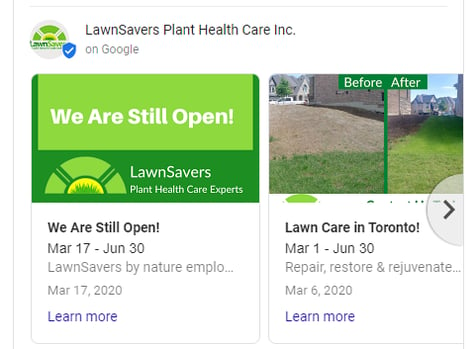 Products and Services on Google My Business
These two newer features of the KP allow a business owner to list their products and/or services. Both services and products can be grouped into categories for better organization.
The main difference between the two elements is that products allow the addition of an image, where the service section does not.
Not all profiles have access to a products or services section; it's dependent on the category of the listing. If you do have them, they will show up on the main sidebar of the Google My Business dashboard. Your listing may have both, one, or none.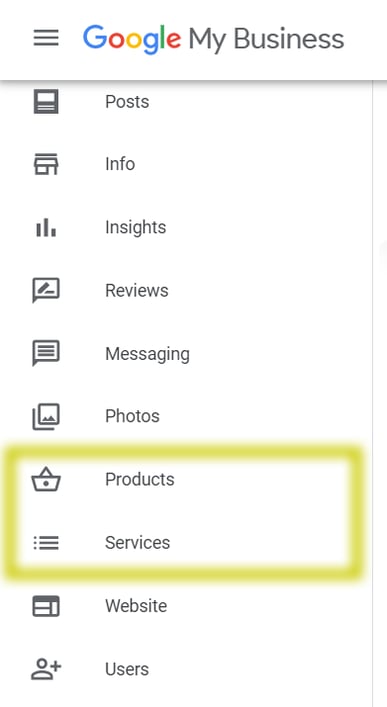 The products section takes a very prominent place in the KP and when you add images, they really stand out. Not only that, but the product categories are also listed.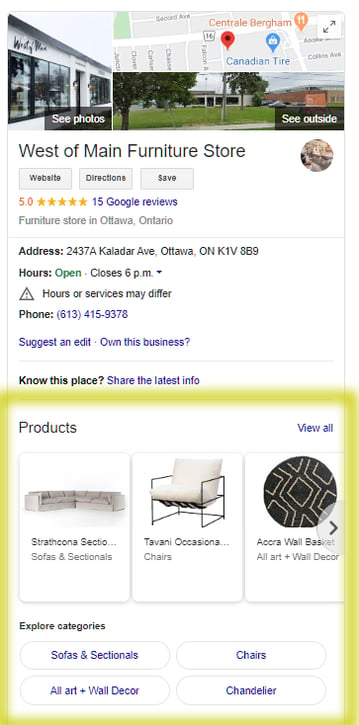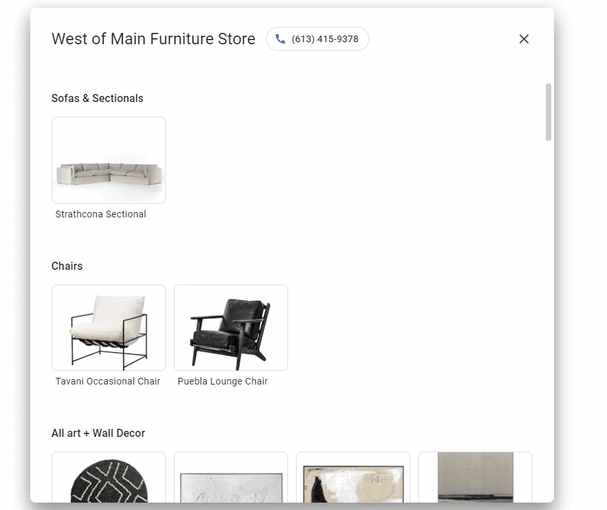 If the product feature appears in your listing but you don't have products to showcase– try to use the product feature anyway!
The law firm listing below used the products section to highlight different law categories or services. Again, images really help get the information noticed.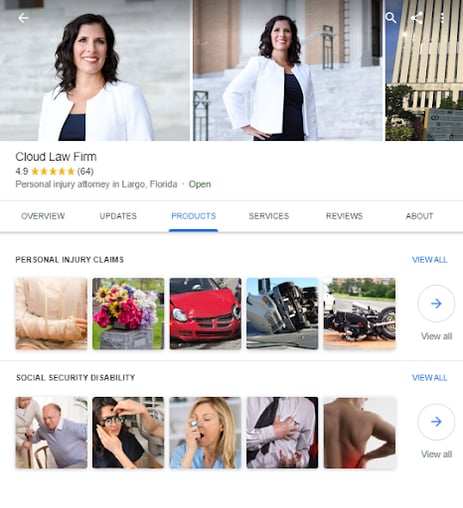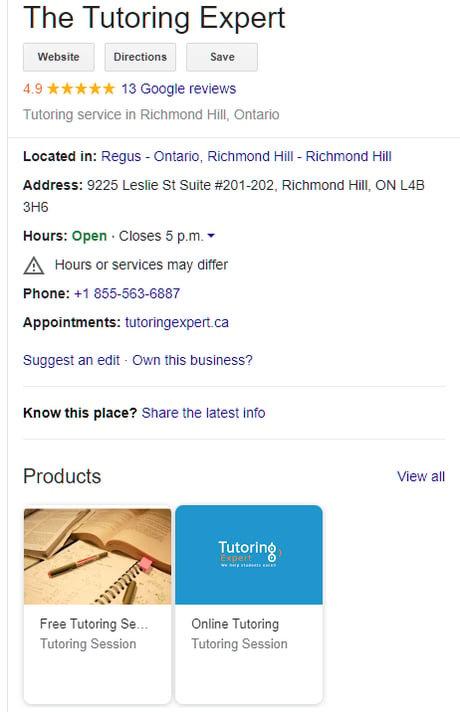 There is absolutely no problem to use the fields in this way. There is no penalty, so if the products or services sections are available, use them as creatively as you can to help your business. Below, the tutoring company uses "products" to promote a free session:
As far as SEO value, so far there has been no measured direct ranking benefit from populating the products or services sections, but there is a ranking benefit when users interact with a listing. So the more clickable elements that you add to a listing, and the more time someone views your listing, the higher the chance that the algorithm will reward your listing with a boost.
Ultimately, you'll want to fill out all the possible fields to maximize your Google My Business listing completely. Not only will it help your conversions, but it will help your rankings as well.
Performing all the necessary tasks to completely fill out Google My Business listings is easy if time-consuming work. And it's extremely redundant if you have hundreds or thousands of listings to manage. dbaPlatform was designed to free agencies and large brands from the chaos of manual Google My Business management. Create an account today and discover the power of automation.