GOOGLE BUSINESS PROFILE (GMB)
Google Business Profile Features
Since launching in June of 2014, Google My Business has become integral to local SEO.
Since launching in June of 2014, Google My Business has become integral to local SEO. This free tool allows businesses and marketing agencies to manage their presence across Google Maps and Google Search. From the Google My Business dashboard, you can edit business info, upload photos, publish posts, and respond to Google reviews.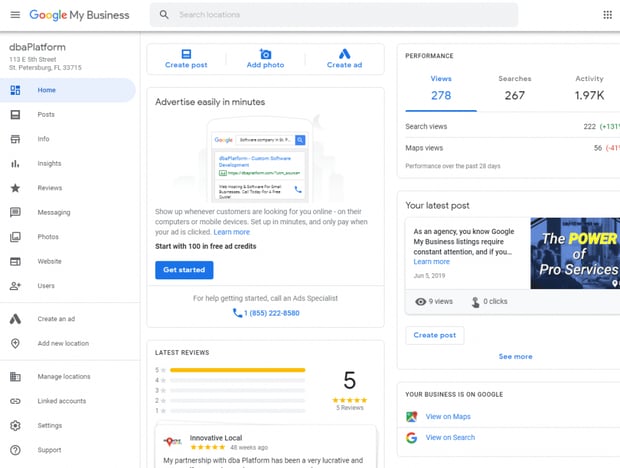 Google My Business Listings Information
The first thing to do after creating a Google My Business account is to import the business listing information. Business name, address, phone numbers, website, hours of operation- make sure to fill out every relevant field. Many business owners are content to select only one category and a few Google My Business attributes, but best practice would be to select every applicable category and attribute. The more information Google has about a business listing, the better it can match that listing to relevant searches.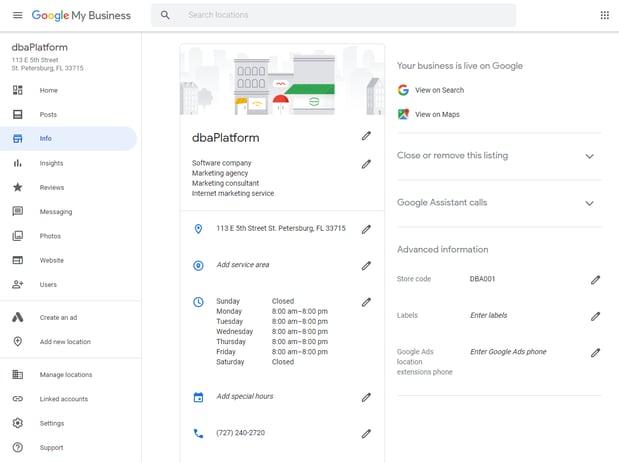 Pro Tip: Did you know that Google will check business listing information from other directories such as Yelp, Bing, and Apple maps for consistency? Consider activating a citations sync to ensure consistency across all directories and an increase in Google rankings.
Google My Business Photos
Another great feature available through Google My Business is the ability to upload photos to the business listing. Start with great pictures of the exterior and interior of the location. This will help searchers find the business. Next, upload photos of products, services, staff, and more to stand out from competitors in the area.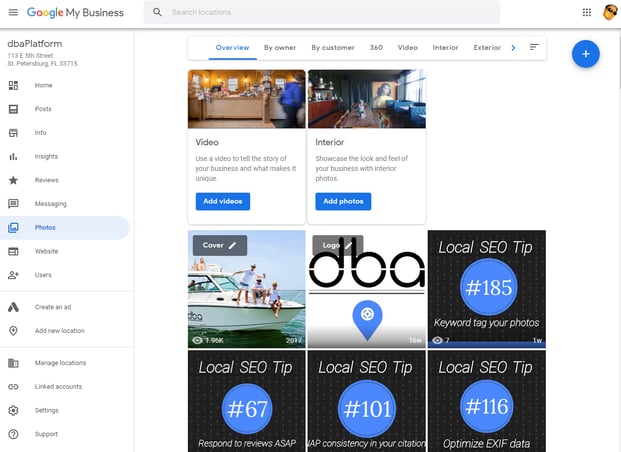 Pro Tip: Use a photo scheduler to upload pictures regularly to a profile. Google My Business listings with constant content updates receive more favorable rankings.
Google My Business Posts
Perhaps the best feature on the Google My Business platform, posts allow for businesses to communicate directly with their audiences. Attach a captivating image and some compelling text to a post and watch profile views and buying actions increase. Google has four different post types available:
What's New- This post type is best used to keep customers updated on what's happening with the business.
Events- These posts give the option to set a start/end date and advertise special events such as fundraisers, demonstrations, classes, and more.
Offer- Use offer posts to promote special offers and discounts. Be sure to include any coupon codes as well as terms and conditions.
Product- Product posts are a great way to provide detailed information on a product such as pricing, special features, and more.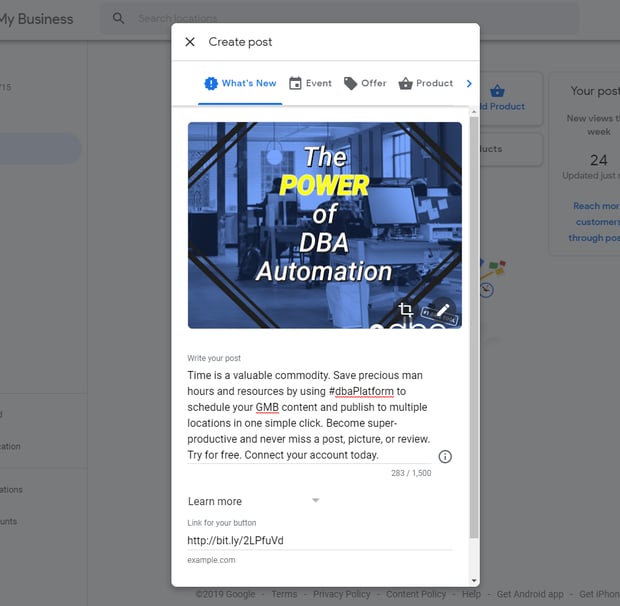 Pro Tip: For multi-location business, publishing posts can be a chore. Avoid having to sign-in to each individual location profile with a Google My Business post scheduling tool.
Google My Business Reviews
The reviews section of Google My Business is a fantastic way to gauge customer satisfaction and improve relationships. While getting 5-star reviews is important, review response is equally important. Acknowledge happy customers as well as engage with negative reviews to determine a solution.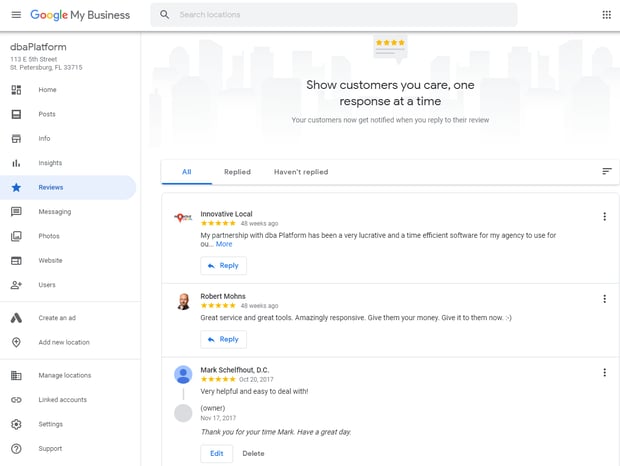 Pro Tip: Easily stay up-to-date with all the reviews for a multi-location business with a review response tool
Google My Business Insights
The Insights section of Google My Business displays how searchers are finding your listing on Google Search and Google Maps. This section also shows phone calls, driving directions, photo views, website visits, and several other metrics that will help determine the health of a business listing. This feature is a great place to find content ideas for future marketing campaigns.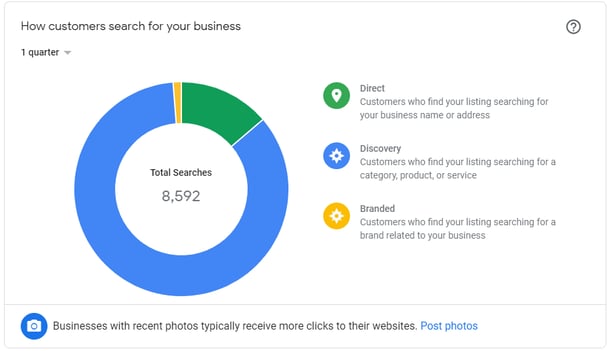 Pro Tip: While Google My Business insights offer a lot of valuable information, it's best to go a step further and get more in-depth reports. Reports should focus on the critical metrics of Google's local search algorithm: Proximity, Relevance, and Prominence.
Wrap-up
The Google My Business platform is essential to any local SEO campaign. The suite of features on offer helps business owners and digital marketers manage their Google Maps business listings. Best of all, the entire platform is free. The takeaway is simple: If you manage a business and you're not on Google My Business- well, good luck getting found.
Pro Tip: Do you or your client have multiple locations? Google My Business is great for managing a few profiles, but trying to keep up with any more than 10 can get chaotic. Consider using Google My Business automation to manage multi-location businesses and spend precious work hours more efficiently.